Available in Clare, Limerick and Galway.
Drainage problems at home can turn your day upside down. They're inconvenient, messy and unpleasant. That's why when you have a drain problem at home, you need it sorted NOW. Not next week, not tomorrow. At CD Environmental we've built our business on understanding urgency – so when our customers need us we're there - helping to minimise disruption, hazard and the risk of extra expense. We offer households in Clare, Limerick and Galway a full range of cleaning, repair and maintenance services.
1. DRAIN-CLEANING SERVICES
It could be an overflowing sink or a backed-up toilet. It could be a blocked pipe, a foul smell or raw sewage spilling out onto your property. These are all signs of a blocked drain, and often the problem lies in a hard-to-reach part of the drainage system. This makes it impossible for you to tackle yourself – while most contractors won't have the equipment necessary to do the job right first time.
We are here to get you sorted: Just call us and one of our engineers will discuss the problem with you over the phone - no matter what time of the day or night. Within hours, we will call out to your home to fix the problem – and there are no hidden costs.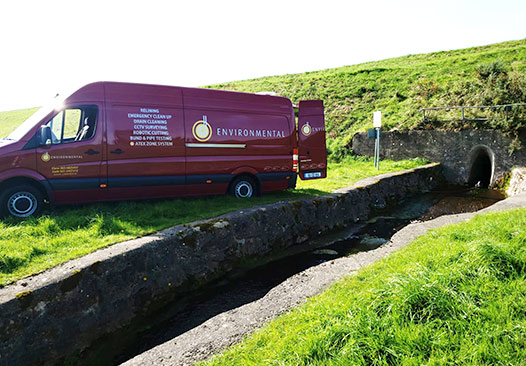 What Makes the Difference?
Our call-out service is available 24-hours a day, any day of the week.
Every job is treated as urgent and an emergency and responded to accordingly – no matter if it's a big or small problem.
We offer essential cleaning and unblocking of any size of drain or sewer, and whether it's a toilet, sink or bath.
The work is in the best possible hands – with qualified, experienced professionals using advanced equipment to get the job done efficiently and effectively.
We won't leave your property until your drains are working properly and are completely clear.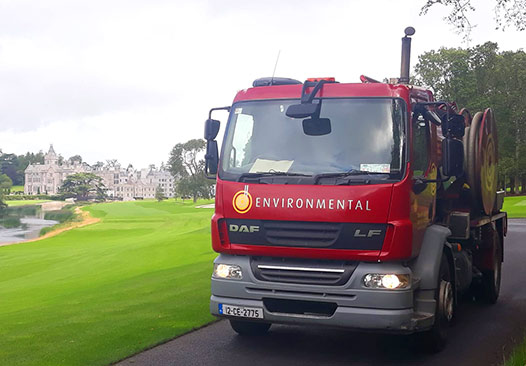 A septic tank is a small sewage treatment system used when a house or business is not connected to the main sewage pipes. At CD Environmental we recommend that, to keep them in good working order, septic tanks should be emptied every 18 months.
We can handle this for you – easily and reliably. We de-sludge every type of tank including Puraflo, Biocycle, Envirocare and Klargester, and the engineer who visits you will advise you of any problems with your system, give you a Certificate of Disposal, and let you know when to plan for your next clean.
To avoid build-up of sludge and scum, be sure your tank is cleaned regularly – a minimum of every 18 months.
Do not put grease, oil, or gravel into your septic tank.
Never put food waste into the system.
Your tank will contain bacteria that help to keep the system clean – be sure not to kill them by using chemicals and solvents.
Not all problems with drainage systems can be easily seen and assessed. That's why we use advanced CCTV Surveying capability to examine pipes and pipe networks and detect any structural issues, root ingress, cracked or collapsed pipes. In this way, we can understand the precise cause of the problem, and where it is located – before commencing any work.
Any Pipe System
We can complete surveys on any line, and on pipes from 15mm to large culverts.
Peace of Mind and Savings
If you are buying a new home, you should make sure a CCTV Survey of the drainage system is carried out prior to purchase. This will give you an accurate understanding of the condition of the pipe network and save you the costs that can arise with hidden problems in the system. We will be able to identify isolated issues – helping you avoid the higher costs of replacing or fixing a full pipe.
Advanced Technology
We place a camera in the line – which delivers high-res colour digital imaging of the pipe system. Controlled remotely by a trained operator, the camera has a 360-degree swivel head and the operator views the footage on a screen close by. We then use this data to compile a detailed and comprehensive Report – with a Schedule of Work if necessary.
We use the most advanced capability in data analysis and reporting to deliver pipe inspection findings. WinCan is the industry's most preferred and used sewer inspection software, with more than 8 500 licenses worldwide. The software allows us to collect all pipe inspection data, organise it into a coherent database, and generate reports that graphically display the pipe and where the defects lie. It is THE preferred way to translate information into action.
We also use GPS and GIS mapping technology as part of WinCan reporting – to produce an accurate and comprehensive CCTV Survey.
Reports given to WRC standard
Odour Detection
Non-Dig Repairs
Pipe Tracing